Are you a course creator or do you run a WordPress site offering courses and coaching? If so, you've probably considered using discounts on online courses to attract more customers and boost your revenue.
In this definitive guide, we'll explore the power of sales promotions for your online course or elearning website. Once you fully understand the pros and cons, we will show you how to strategically implement discounts in your WordPress elearning website to achieve your business goals.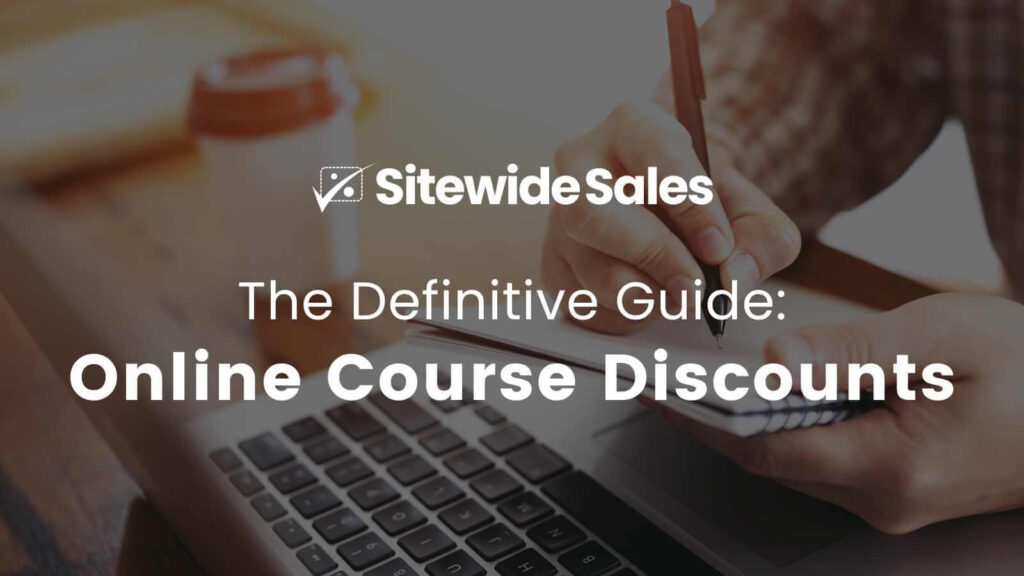 The Impact of Offering Discounts on Online Courses
The world of online learning is rapidly expanding, challenging traditional learning models and requiring innovative marketing strategies to thrive. Offering discounts on online courses can have significant effects on your business.
Benefits of Online Course Flash Sales
Increased Customer Loyalty: By providing discounts to your existing customers, you can foster loyalty and encourage repeat purchases. Satisfied learners are more likely to return for additional courses.
Higher Customer Acquisition: Attracting new customers can be challenging, but discounts can act as incentives for potential students to take the plunge and enroll in your courses.
Improved Conversions: Discounts can create a sense of urgency, forcing people to make a purchase decision. A well-timed discount can convert potential customers into paying students.
Fast Track a New Course to Success: If you're just launching a new course, a discount is a great way to get early feedback from students. This early information can help you adjust the course content, adapt pricing, and gather testimonials.
Support a Course That's Losing Interest: If you have a backlog of course content that isn't performing, consider a coupon code on certain courses to recharge their usefulness. This alone can bring new students into the door and get them interested in all the new things you're producing.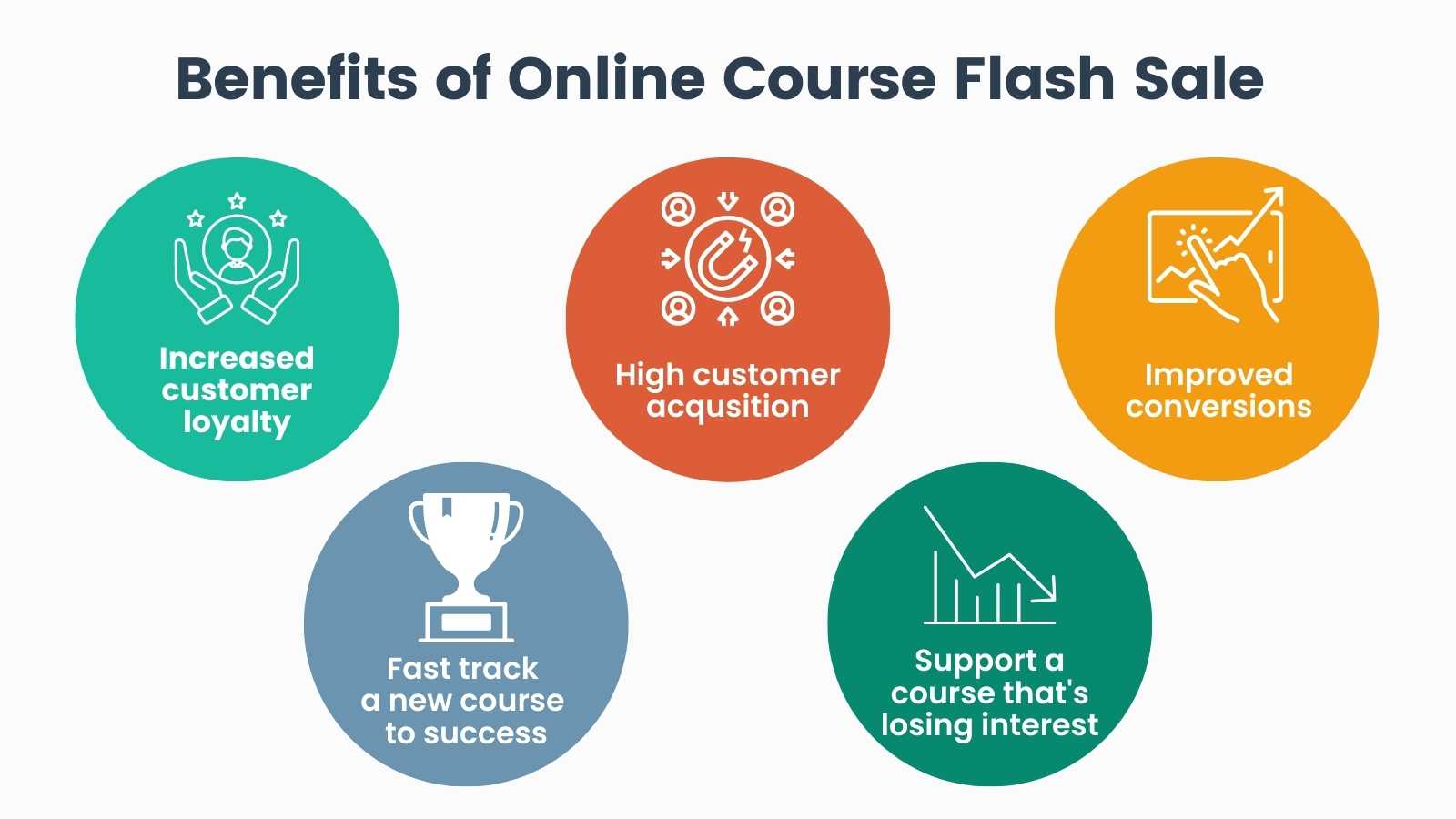 Potential Risks When Discounting Online Courses
But with all these strong benefits, there are a few potential risks when you decide to discount your online courses.
Impact on Profit Margins: Offering substantial discounts without careful planning may hurt your profit margins.
Damage to Brand Image: Frequent or excessive discounts could devalue your courses and harm your brand's perceived value.
Attracting Non-Loyal Buyers: If learners become trained to expect discounts, they may only purchase during sales, reducing revenue outside of sale periods.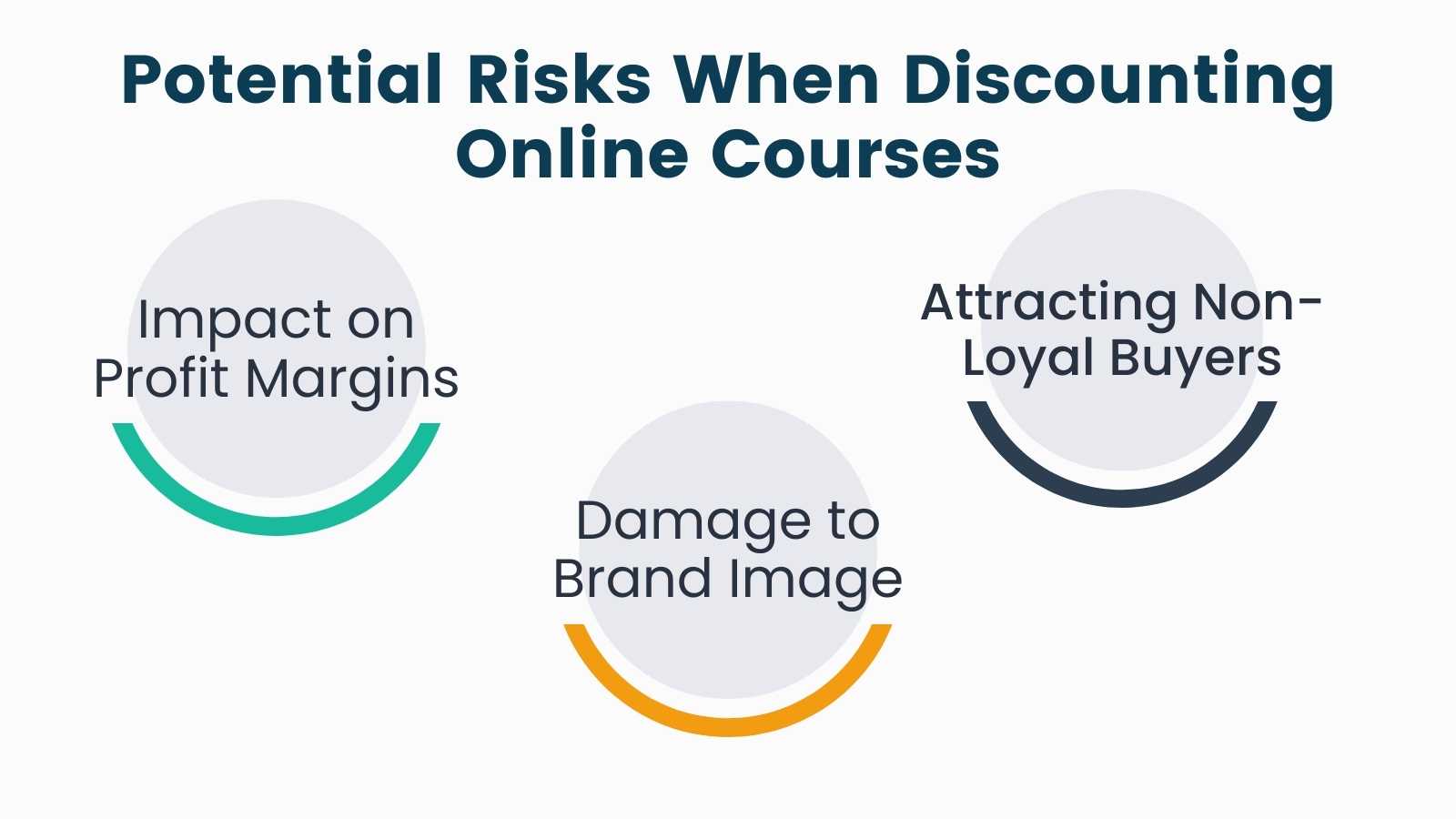 Some of these negative impacts can be solved, though, if you strategically design a sale calendar that supports lower profit months, while clearly communicating that coupon codes are not always available for would-be buyers.
Types of Discounts for Online Courses
As a course creator or online business owner, understanding the various types of discounts available and how to implement them strategically is essential to leverage their full potential. Some of these discount strategies force you to think outside the coupon code field—which is a smart strategy especially when you are just starting a sales system and looking to experiment.
In this section, we'll explore different types of discounts that you can utilize to entice learners and boost course enrollments:
Make it Free
While this isn't the most popular choice, you can use a Sitewide Sale to make course access completely free.
Use this system if you are trying to breath new life into your elearning website or are releasing a new lightweight course and want to gain early adoption at scale.
Percentage-based Discounts
Utilize different percentage ranges to attract customers and increase sales.
Consider lower incentive percentages (e.g., 5% or 10% off) for regular promotions and higher percentages (e.g., 20% or 25% off) for special occasions like Black Friday.
Fixed Amount Discounts
Position fixed amount discounts as credits to encourage engagement.
Use fixed amount discounts for products priced above $100 and percentage discounts for products below $100, following the "rule of 100" for psychological impact.
Free Gift Offers
Enhance customer value by offering a free gift with a purchase.
Set minimum purchase requirements (e.g., "Free gift for orders over $200") or link the gift to specific course combinations ("Buy 5 course modules and get a gift").
Automatic Discounts on Online Courses
Run site-wide promotions or discounts on specific courses or groups of courses without the need for customers to enter a discount code.
Streamline the buying process to encourage impulse buying and improve the checkout experience.
Pro tip: this is exactly what a Sitewide Sales is.
Customized Discount Codes
Create specific discount codes for targeted audiences, such as email subscribers or repeat customers.
Use discount codes to track the success of different marketing campaigns and measure their impact on sales.
Setting the Right Discount Amount for Online Courses
Before offering discounts, carefully evaluate factors related to your product and company to strike the right balance between attracting customers and staying profitable.
Determine Profit Margins Accurately: Calculate the cost of producing your course, including direct expenses and implied fees. This will help you understand the maximum discount you can offer while remaining profitable.
Know the Value of Your Product: Recognize the unique value of your course content. Courses with specialized knowledge may command higher prices, while more general courses might benefit from occasional discounts.
Analyze Your Company's Cash Flow: Consider your financial situation and decide on the appropriate discount strategy. Avoid excessive discounts if your course needs to start generating revenue quickly.
Experiment and Measure Results: Test different discount amounts and campaigns, then analyze the impact on sales and customer behavior. Use data-driven insights to refine your discounting strategy.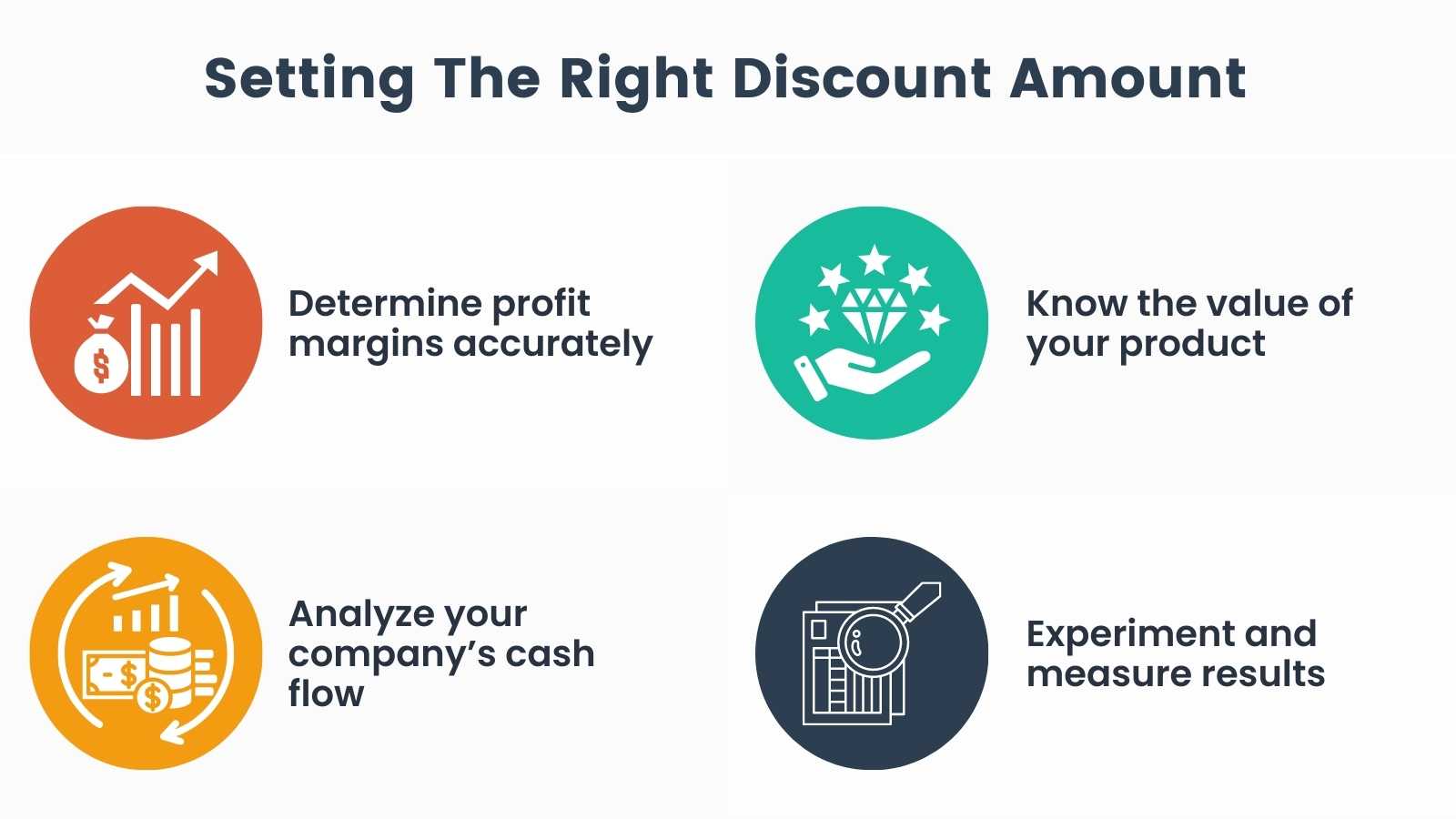 When and How to Apply Discounts Strategically
Consider Your Branding Strategy: Make sure that offering discounts aligns with your overall brand positioning. For high-end brands, implementing ongoing customer loyalty programs with exclusive benefits may be more effective than offering frequent one-off discounts. This approach helps maintain the brand's perceived value while still improving customer retention.
Implement Customer Loyalty Plans: For businesses with tighter profit margins, focusing on customer loyalty can be a strategic approach. Consider creating customer loyalty plans that reward repeat purchases and long-term engagement. Offering special benefits, such as early access to new courses or exclusive content, can foster a sense of community and encourage customers to remain committed to your platform.
Utilize Discounts and Periodic Offers: If your business operates with healthy profit margins, utilizing discounts on online courses can be a powerful tool to achieve sales goals and attract new learners. Implementing limited-time promotions, flash sales, or seasonal discounts can create a sense of urgency and excitement, motivating potential customers to enroll in your courses before the offer expires.
Measure Effectiveness: Regardless of the discounting approach you choose, it is crucial to monitor the effectiveness of each discount campaign. Analyze data on customer behavior, sales volume, and revenue to identify what resonates best with your target audience. Use the insights gained from these analyses to refine your discounting strategy and tailor future promotions for maximum impact. Regular evaluation and adjustments based on real-time data will help you optimize your discounting efforts over time.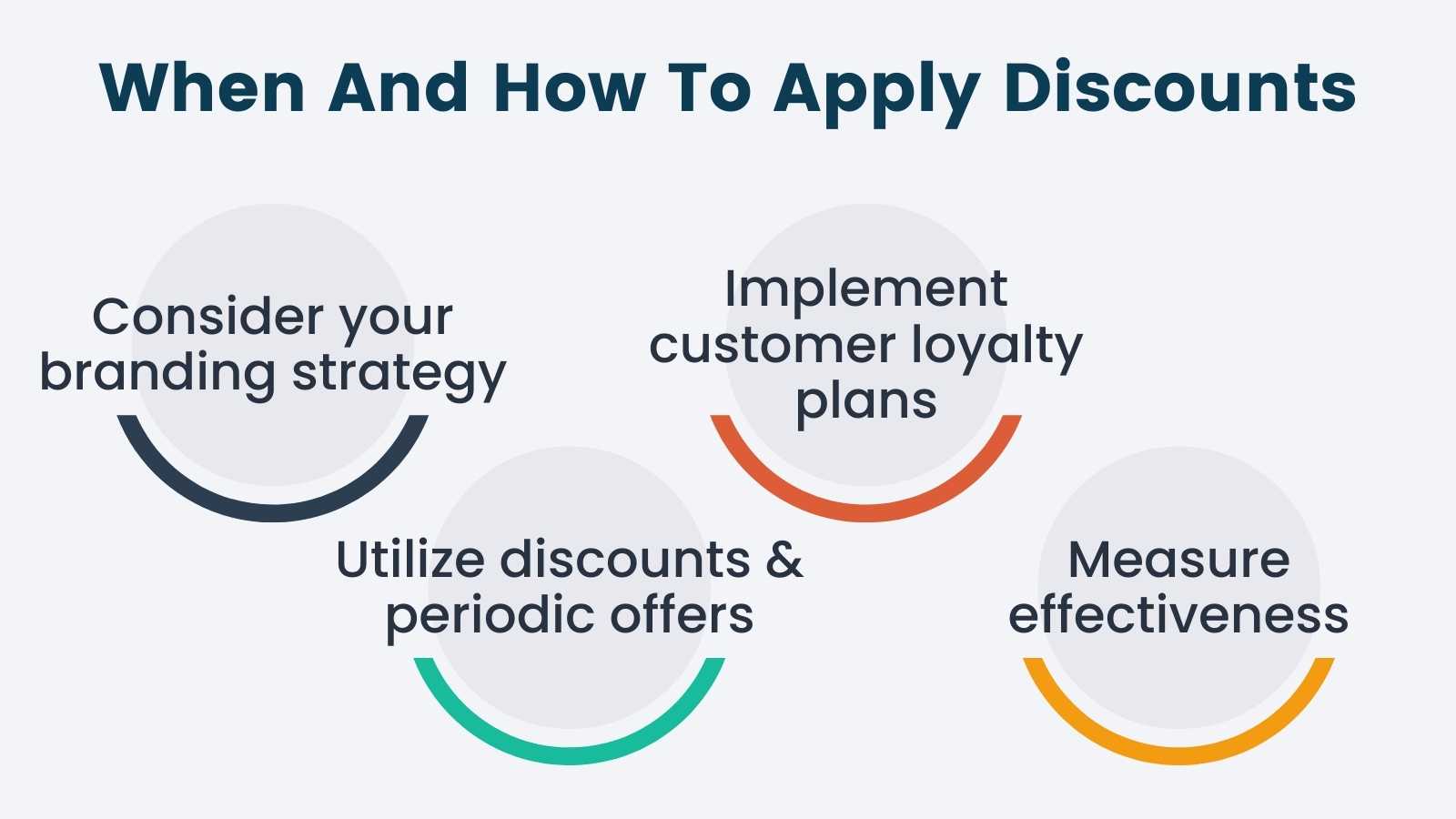 Setting Up Course Discounts with Different WordPress Plugins
How you set up a discount on your online courses varies based on the e-commerce and learning management system (LMS) integrations you use. Here, we'll cover two popular setups: Paid Memberships Pro and WooCommerce.
Using Paid Memberships Pro (PMPro) and the Free Courses for Membership Add On
Paid Memberships Pro (PMPro) offers a powerful solution for selling course access through memberships. The integration has a built-in basic course module, as well as integration to bundle and sell course access for popular elearning platforms like:
LifterLMS
LearnDash
Sensei LMS
TutorLMS
By integrating with Sitewide Sales and Courses, you can run flash sales to boost course enrollments for any elearning platform.
Video: How to Run a Flash Sitewide Sale With LifterLMS and Paid Memberships Pro
Follow these steps to set up a discount on your online courses using PMPro and Sitewide Sales PMPro Integration:
Install and Activate Plugins: Get the latest versions of Paid Memberships Pro (free), Courses for Membership (free), and Sitewide Sales (free trial) installed and activated.
Create a Course: Using the Courses plugin, create the course you want to promote in your flash sale. Ensure the course content and pricing are set up correctly.
Set Up PMPro Levels: In Paid Memberships Pro, create membership levels that correspond to the courses you want to sell. Assign the respective courses to each membership level.
Configure Sitewide Sales: Navigate to Sitewide Sales > Add New to configure the flash sale details. Set the sale duration and other settings. Refer to the full docs on creating a sale for more help with this step.

Enable PMPro Integration: In your Sitewide Sales setup, select the integration with Paid Memberships Pro.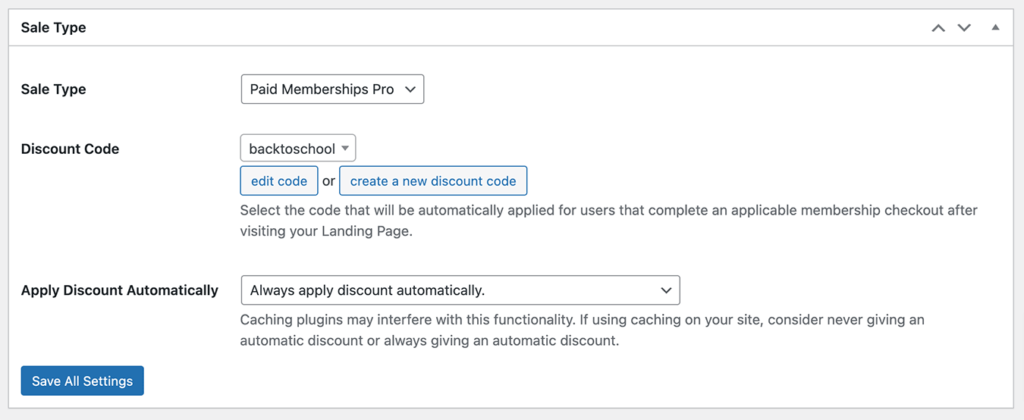 Assign the Discount Code: Specify which PMPro discount code to use for your sale.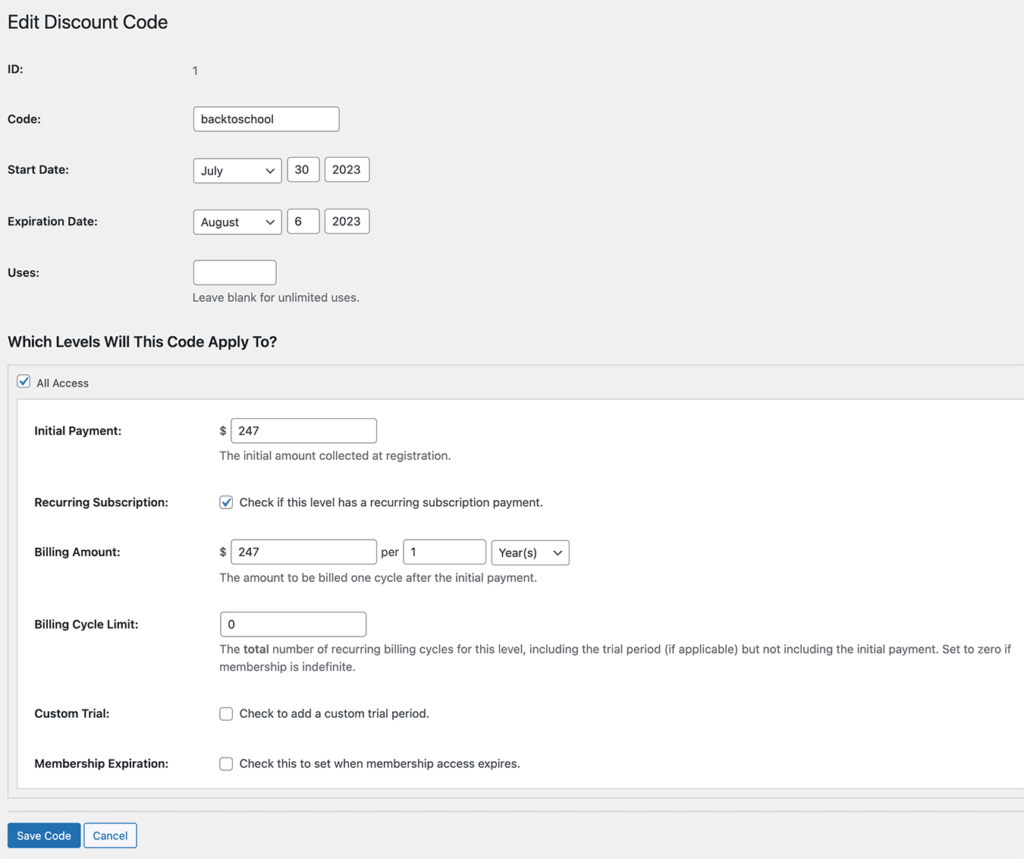 Promote the Sale: Once everything is set up, promote the flash sale to your audience using various marketing channels. This includes designing a simple Sale Banner in Sitewide Sales, which is linked to your sale to automatically turn on and off during the sale period.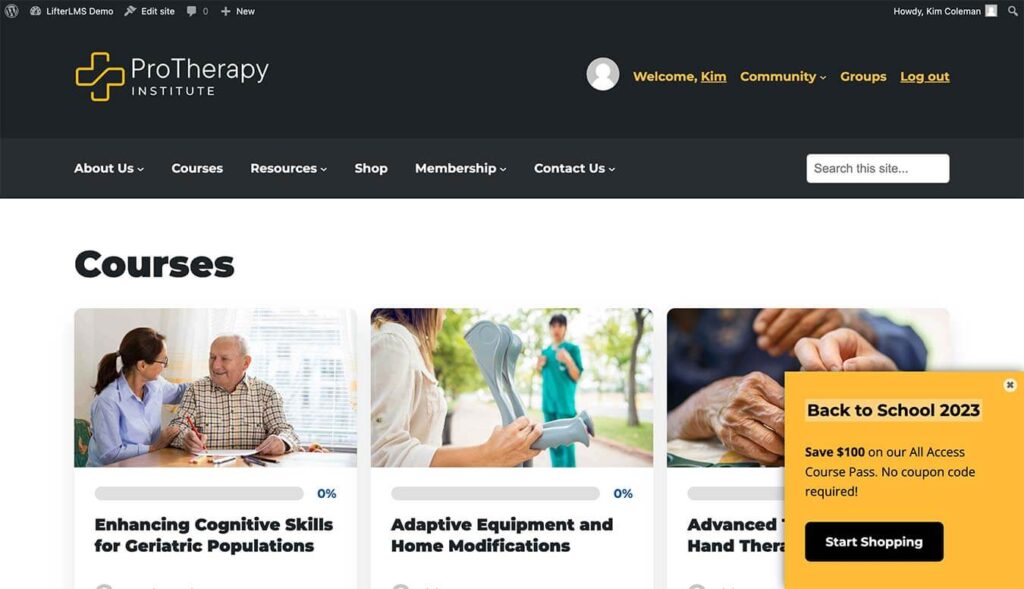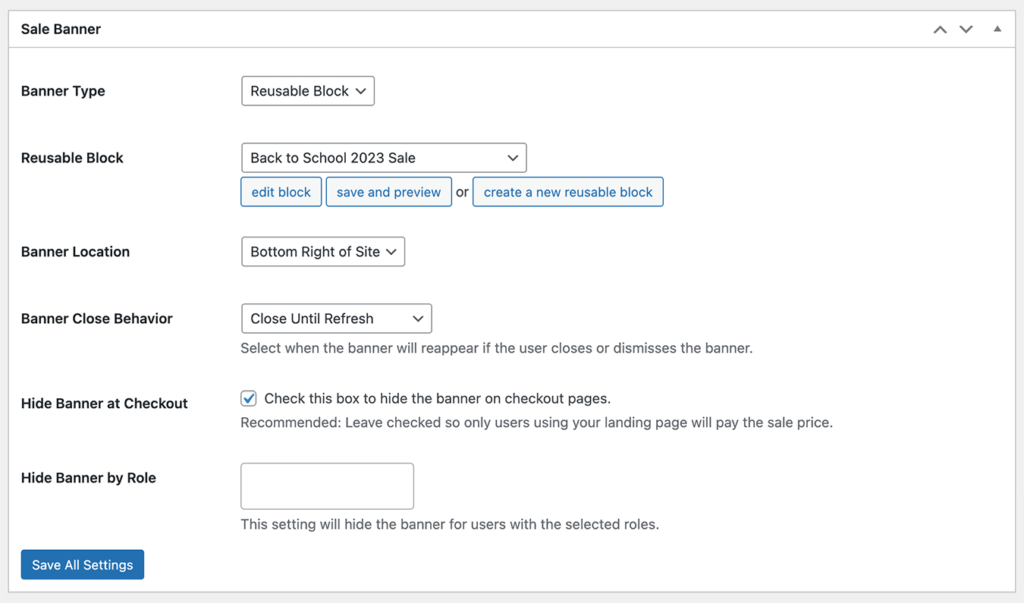 Please refer to the docs on How to Create a Discount Code in PMPro for help with discount codes.
Using LifterLMS and WooCommerce
LifterLMS, combined with WooCommerce, provides a comprehensive platform for creating and selling online courses.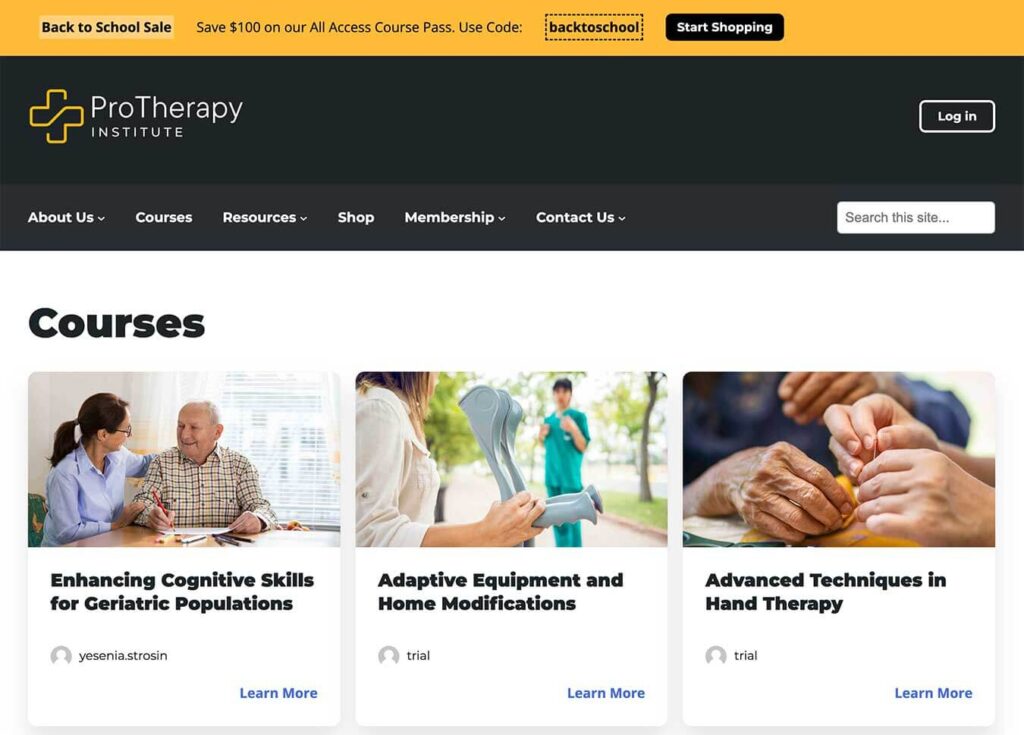 Video: How to Run a Flash Sitewide Sale With LifterLMS and Paid Memberships Pro
To offer discounts on courses with this setup, follow these steps:
Install and Activate Plugins: Get the latest versions of LifterLMS (free), WooCommerce (free), and Sitewide Sales (free trial) installed and activated.
Install WooCommerce Integration for LifterLMS: For this setup, you'll also need the LifterLMS WooCommerce Integration (premium).
Create a Course: Using LifterLMS, create the course you wish to promote through the discount. Set the course pricing and content accordingly.
Configure WooCommerce: In WooCommerce settings, set up the necessary payment gateways for your courses.
Set Up Product for Course: Create a WooCommerce product for the course. Link your product to the corresponding LifterLMS course. The WooCommerce Integration docs for LifterLMS have more details on how to get this configured.
Set Up the Coupon Code: In Marketing > Coupons, create a coupon code and set usage restrictions to the single product you want to offer a sale on.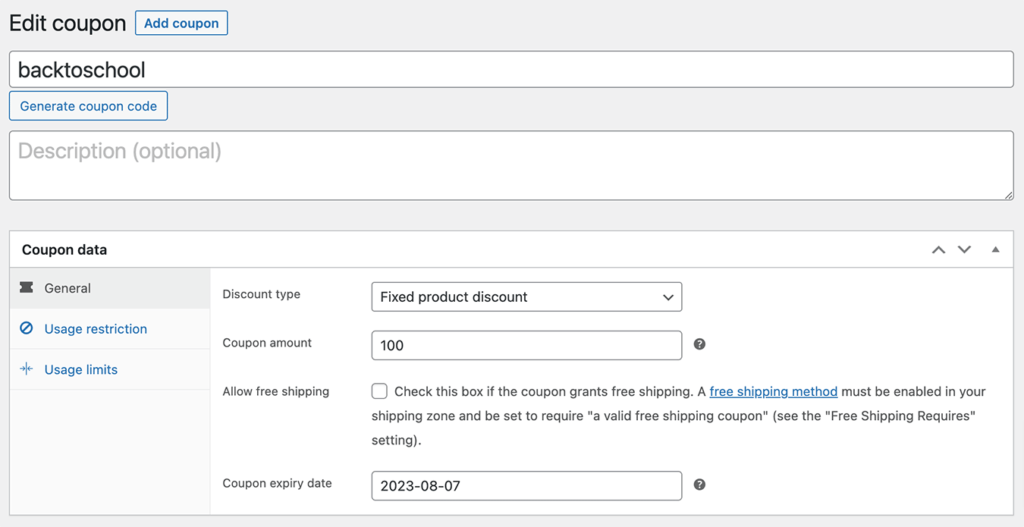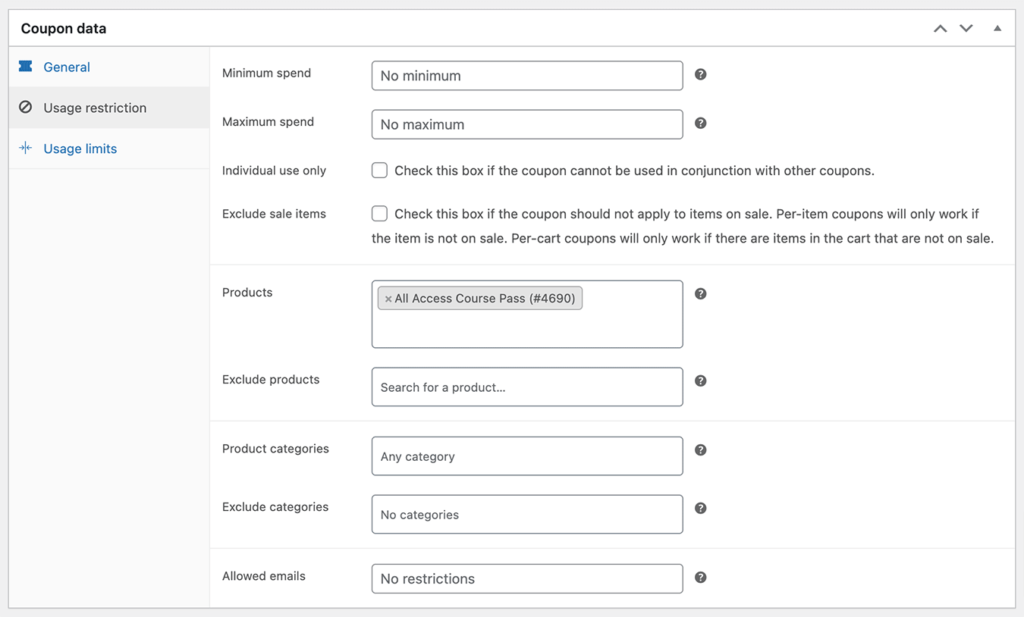 Configure Sitewide Sales: In Sitewide Sales, configure the discount details for the course sale. Assign the correct WooCommerce coupon code and set the sale duration.

Enable WooCommerce Integration: In your Sitewide Sales setup, select the integration with WooCommerce.

Select Targeted Courses: Specify which products the WooCommerce coupon code applies to. This connects your discounts to the exact LifterLMS courses you want to sell during the promo.
Promote the Sale: Start promoting the course sale to your audience. This includes designing a simple Sale Banner in Sitewide Sales, which is linked to your sale to automatically turn on and off during the sale period.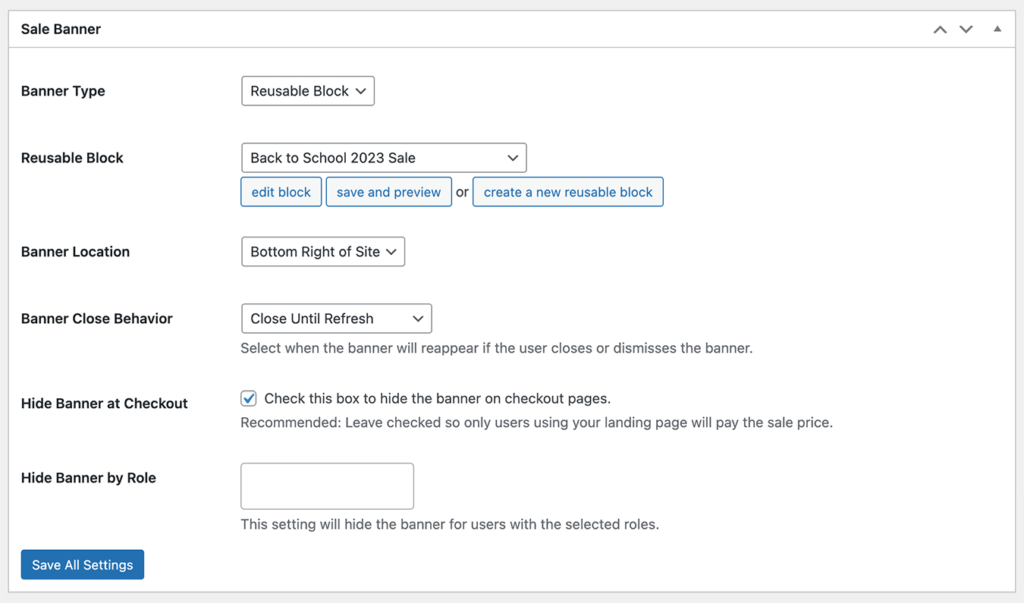 For instructions on creating and managing discount codes in WooCommerce, refer to our guide on How to Create a Coupon Code in WooCommerce.
Unlock the Potential of Discounts
Don't overlook the potential of discounts to drive your online course business to new heights. With careful planning and data-driven insights, you can leverage discounts as a valuable tool to engage learners, meet sales targets, and build a thriving community around your courses.
In the fast-paced world of online education, offering discounts on courses has become an indispensable strategy for course creators and online business owners alike. As you embark on your journey to boost sales and attract learners, keep in mind the valuable insights provided in this definitive guide.
By understanding the impact of discounts on your business, exploring various discount types, setting appropriate discount amounts, and measuring the results, you can position your courses for success.
Remember that every business is unique, and what works for one may not work for another. Embrace experimentation and use data-driven insights to optimize your discounting strategy continuously.
Above all, always keep your audience at the forefront of your decision-making process. By understanding their needs, preferences, and pain points, you can tailor discounts that resonate with them and drive meaningful engagement.
Ready to Boost Sales, Drive Traffic, And Increase Conversions?
Sales help businesses to improve brand visibility, drive more traffic, and increase revenue. They also help you to connect with potential buyers who may be sitting on the fence or who need a little push to get over the fence.
Learn why this unique WordPress plugin is the secret to running sales with ease.
Check out the Sitewide Sales plugin today.