eBooks have revolutionized the way authors and businesses connect with their audience, providing instant access to a wealth of knowledge and storytelling. Today, a well-planned eBook sales promotion can quickly enhance your online presence, establish authority, and boost revenue—all by yourself and on a tiny budget.
Whether you're an aspiring author, a thought leader, or a business owner, this guide is designed to walk you through the intricacies of selling eBooks online and running a sales promotion.
Ready to propel your digital products to new heights?
What is an eBook?
An eBook is an electronic or digital book. It can be a digitized version of an already published physical book, or a book that's entirely delivered online.
---
Unlike its physical counterpart, an eBook offers:
---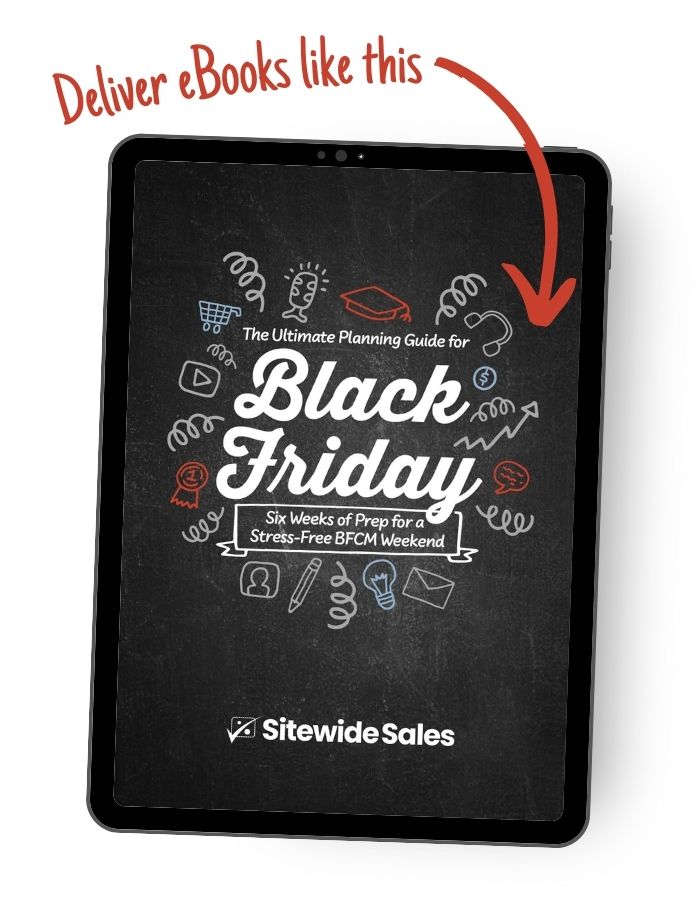 You can deliver an ebook as a simple PDF download (like this free ebook I wrote: The Ultimate Black Friday Planning Guide) or formatted for Kindle or EPUB.
Readers consume eBooks on all kinds of devices, from desktop computers to iPads and tables, Kindles and other eReaders, and even smartphones.
In essence, an eBook is a digital product used to establish authority. Publishing an eBook positions you as an expert in your field, creates a new revenue stream, and delivers value to your audience.
Four Types of eBooks and Their Benefits
eBooks can be fictional or non-fiction. For this guide, we're primarily focused on eBook sales promotions for thought leaders, businesses, online creators, coaches, and the like.
These types of people produce non-fiction eBooks with formats like:
Instructional Guides: Provide step-by-step processes. They appeal to those looking for hands-on knowledge.
Narratives: Share personal stories or experiences. They build deeper connections with readers.
Research-Based: Offer in-depth analysis or insights on specific topics. They attract an audience seeking expert knowledge.
Visual Books: Use images or infographics to convey information. Ideal for audiences that prefer visual content.
Your eBook could have some combination of all of these styles, or you could try something completely new.
There are truly no rules—you book could be 1,000 pages or just 15. It could be deeply creative and experimental, or a classic book with white pages and black text. You do you.
Ways to Sell an eBook: The Power of Owning Your Sales Platform
The freedom of eBooks and other digital products is a thrilling evolution in a world that was once dominated by literary agents, high profile publishers, and deep pockets.
Today's online publishing world offers many, many platforms to help you sell digital products. But the platform you choose to sell your eBook can make a significant difference in your total earnings—and your options when choosing how to run an eBook sales promotion.
What's more, how you sell can influence your personal or business' brand perception as well as develop a closer relationship with readers.
Here are several ways to sell your eBook, with a special emphasis on the benefits of hosting sales on your own website.
Sell On Your Own Website
Full Control: By selling directly from your website, you control the entire user experience from browsing to purchasing. You can customize the sales process, integrate bonus tools, and tailor the experience to match your brand.
Higher Profit Margins: No third parties means you're not sharing your profits. Every sale made on your site puts more money in your pocket.
Direct Relationships with Readers: Interact directly with your readers, gather feedback, and nurture relationships without distractions.
Flexibility: Offer bundles, promotions, or upsells on other products and services. You can supplement eBook content with blog posts and other resources. Your site means your rules.
Data Insights: Owning your platform allows you to access detailed analytics. Understand your audience's behavior, which can help in refining marketing strategies.
Free Tools & Integrations: With platforms like WordPress, you can offer eBooks with WooCommerce for selling and Sitewide Sales for eBook sales promotions.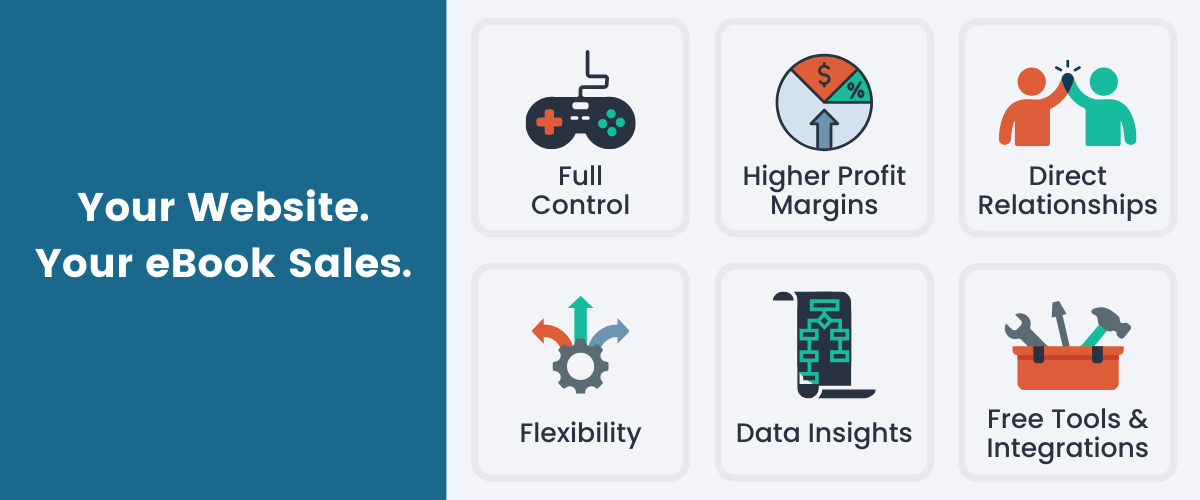 Sell at a Third-Party Website
Massive Audience: Amazon's vast user base means your eBook can potentially reach millions.
Royalty Options: Choose between two royalty options (70% and 35%) based on your pricing and distribution choices.
Established Reader Base: Leverage the brand's loyal following for visibility.
Competitive Royalty Rates: Earn up to 65% in royalties based on the list price of your eBook.
Diverse Audience: Reach readers who prefer Apple's ecosystem.
Interactive Content: Apple Books for Authors allows the inclusion of interactive elements, making it suitable for educational and multimedia-rich eBooks.
Wide Distribution: This platform distributes to major retailers, increasing your eBook's visibility.
Author-Centric: The platform offers a higher royalty rate (85% net), favoring authors.
Global Reach: Kobo has a strong international presence, ensuring your eBook reaches audiences outside of the US.
Simple Publishing Process: The platform prides itself on a straightforward publishing experience.
While all these platforms have their merits, nothing matches the autonomy, profit potential, and branding possibilities of selling from your own website.
You can absolutely sell the same eBook through multiple channels—and there are loads of freelancers that can help turn a PDF into Kindle or EPUB format for you.
Think of third-party platforms as supplementary channels, but prioritize your website as the primary sales hub. Doing so ensures long-term sustainability, total control, greater profit margins, and a stronger bond (with access!) to your readers.
The When, Where, and Why of eBook Discounts
You have an eBook and a way to sell it. Now you are thinking—let's put this product on sale! The rest of this guide is focused on:
The basics of defining a sale period
The positive benefits you'll get from running a sale, and
The potential negative impact your sale could have (knowing the cons can help you avoid them).
Jump ahead if you're ready to actually run the eBook sale on a self-hosted platform like WooCommerce.
Timing Your eBook Sales Promotion
There is no right or wrong time to put an eBook on sale. We have a full guide on designing a sales calendar, but here are few popular options:
Holiday Seasons: Festive times often result in higher sales. Consider major holidays and events like Black Friday.
Book Launches: Offer introductory prices to spike initial interest.
Dwindling Sales: Use discounts as a rejuvenating tactic when sales wane.
Remember, frequent discounts train customers to wait for them. Strategize effectively.
Pros of eBook Promotions
Increased Visibility: Promotions draw attention to your work, potentially increasing your audience base.
Higher Sales Volume: Even with a reduced price, the surge in volume often compensates for the discount.
Data Collection: Promotions are an opportunity to gather data, which helps you refine future marketing strategies.
Enhanced Reader Loyalty: Discounts often translate to gratitude, fostering long-term relationships with readers.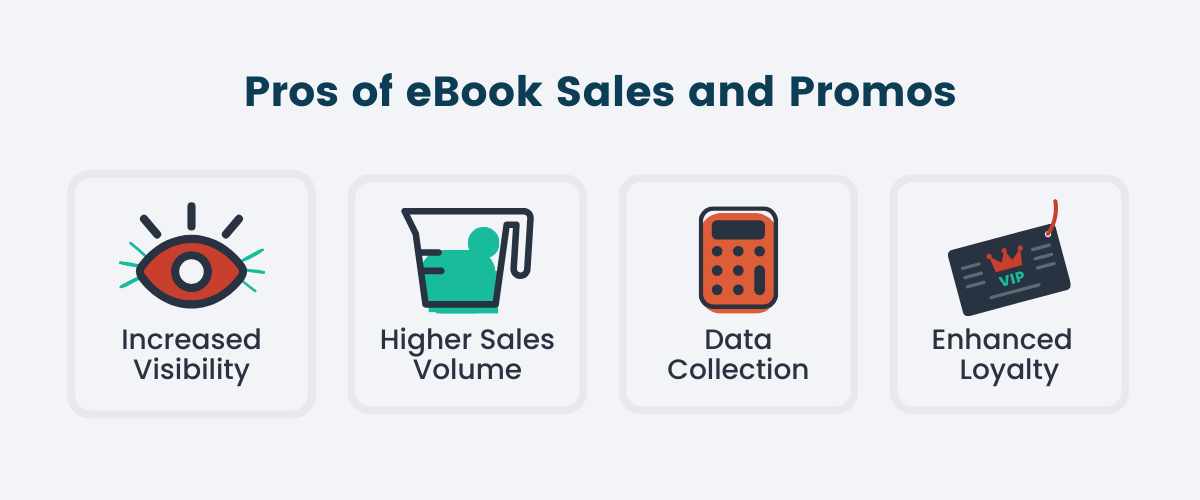 Cons of eBook Promotions
Reduced Profit Margins: Discounts directly impact profit per unit.
Potential Brand Devaluation: Frequent discounts may lead readers to question the eBook's original value.
Short-Term Sales Boost: A post-promotion dip in sales often follows the initial surge.
Dependence Risk: Over-reliance on promotions for sales might make it challenging to sell without them.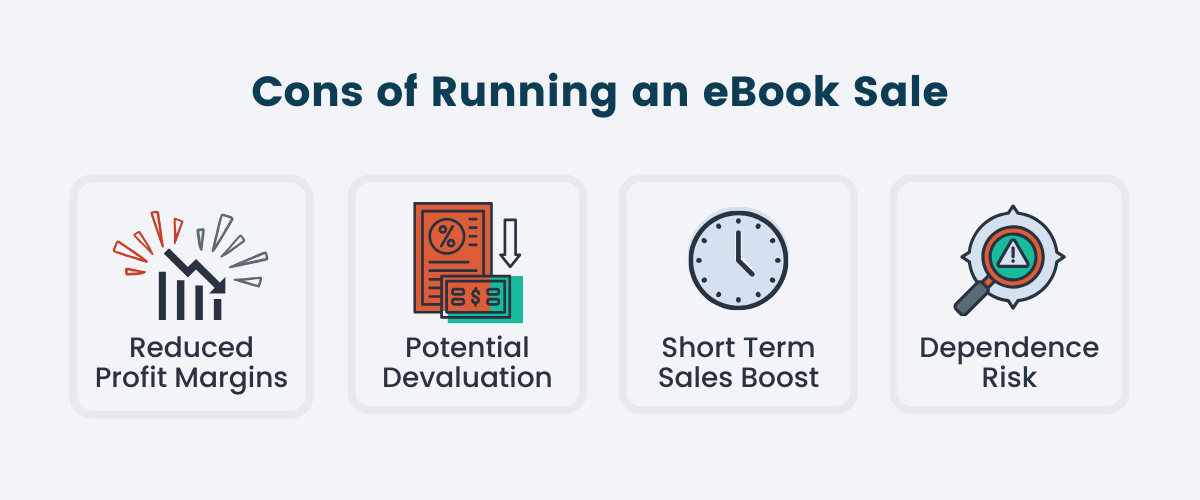 How to Set Up an eBook Discount With WooCommerce and Sitewide Sales
Setting up an eBook discount is straightforward when you integrate WooCommerce with the Sitewide Sales plugin. Here's a step-by-step guide tailored for those looking to offer discounts on downloadable products, such as eBooks:
1. Install and Activate Plugins
Ensure you have the latest versions of WooCommerce (free) and Sitewide Sales (free trial) installed and activated on your WordPress website.
2. Set Up WooCommerce
Create a Downloadable Product: In WooCommerce, add a new product and select the 'Downloadable' option. Input the eBook details, upload the eBook file, and set the original price.
Configure WooCommerce: Navigate to WooCommerce settings and configure the necessary payment gateways to handle transactions.
Set Up the Coupon Code:

Go to WooCommerce > Coupons in your WordPress dashboard.
Click 'Add Coupon' and generate a coupon code.
Under 'General' set the discount type, amount, and expiration date.

Select Targeted Products:

When creating your coupon, specify which products the coupon code applies to.
This ensures your discounts apply only to the designated eBooks you intend to promote.
Navigate to 'Usage restriction' and set it to apply to the specific eBook product you want to offer a sale on.
3. Configure the Sitewide Sale
Configure General Sale Settings:

In your dashboard, go to Sitewide Sales and create a new sale.
Set the discount details, including start and end dates.
In the 'Sale Type' dropdown, choose 'WooCommerce'.
Assign the previously created coupon code.

Design On-Site Sale Promotion Banner: Now, it's time to get the word out.

First, design a sale banner within Sitewide Sales.
This banner activates during the sale period, serving as an instant call-to-action for your visitors.
Make sure the banner clearly mentions the eBook discount to catch users' attention.
When writing copy for your sale banner, consider your target audience and the problem your eBook solves.
4. Run the eBook Sale Promotion
Enable the Sale: Turn the sale on by checking the box to "Set as current active sale" from the single Sitewide Sale edit screen.
Monitor and Adjust: Once your sale is live, monitor the performance. Check how many users are utilizing the coupon code, and adjust your promotional strategies as necessary to maximize reach.
Concluding the Sale: At the end of the sale period, Sitewide Sales will automatically deactivate the discount. Ensure to communicate the end of the sale to potential buyers so they don't miss out.
For more detailed information on creating and managing discount codes within WooCommerce, consider checking guides on 'How to Create a Coupon Code in WooCommerce'. This will give you additional insights and tips for optimizing your discount strategies.
Ready to run an eBook sales promotion?
eBook sales promotions have the potential to do great things for your business—but with substantial rewards come some potential downsides.
When executed the right way, they generate revenue, increase brand visibility, and foster customer loyalty.
Implemented incorrectly, they drain your time and attention, and ultimately underperform. The worst outcome is that the eBook sale negatively impacts profitability and brand perception.
Remember to first define why you're running this sale promotion. A little pre-work on your "why" can truly help you prepare yourself for whatever outcomes the sale brings. A defined "why" also gives you one last head check that the promotion aligns with your overall business goals and strategies.
What's your experience with eBook discounts?ˀ Share this article and let the world know your strategies and insights on eBook promotions.